Edmonton Parks & River Valley
Built on the river, Edmonton is divided by the North Saskatchewan River Valley, the longest stretch of connected urban parkland in North America and the highest per capital parkland area of any Canadian city 22 times larger than New York City's Central Park, the North Saskatchewan River Valley runs from the south west corner of Edmonton and winds its way through the city, slicing through Edmonton's bustling downtown on its way to the north east quadrant.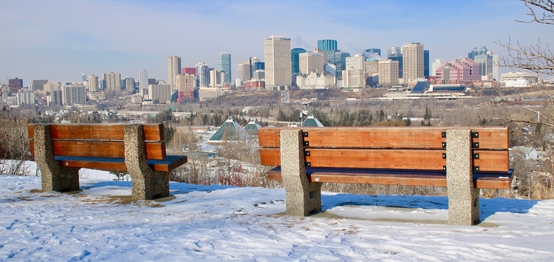 This unique urban "Ribbon of Green" parkland is interconnected with multi-use bike and walking trails, and is home to many popular Edmonton attractions including Fort Edmonton Park and the Edmonton Valley Zoo. Several popular private and public golf courses dot the River Valley, including the Mayfair Golf and Country Club, Riverside Golf Club and the Rundle Park Golf Course.
The 25 kilometre (16 mile) River Valley system includes 11 lakes, 14 ravines and 22 major parks, yet this massive river valley system only makes up half of Edmonton's total 27,000 acres of parkland. The rest is scattered throughout city neighbourhoods in both small and large portions, including dozens of community parks and an extensive ravine system in the south west area of the city.
Edmontonians make use of this extensive parkland all year round, enjoying both summer and winter activities. In the winter public greens paces and golf courses become popular places for cross-country skiers while many of the lakes open for public skating once they freeze over. Edmonton has two downhill ski hills within the city limits and an additional two within the greater Edmonton area.
These are some of Edmonton's most well known attractions, including iconic government buildings, notable parks, popular public gathering areas and recreational spots.
There's lots of things to see and do in Edmonton: learn more about some of our fantastic recreational facilities.
Edmonton has a ton of fantastic parks and river valley areas. Learn more about our park and trail system.
Looking To Buy or Sell?
Whether you're looking to purchase or thinking of selling a St. Albert Real Estate, we can help you out. Contact us today!
Agent On Duty
Mel Knott
Real Estate Agent